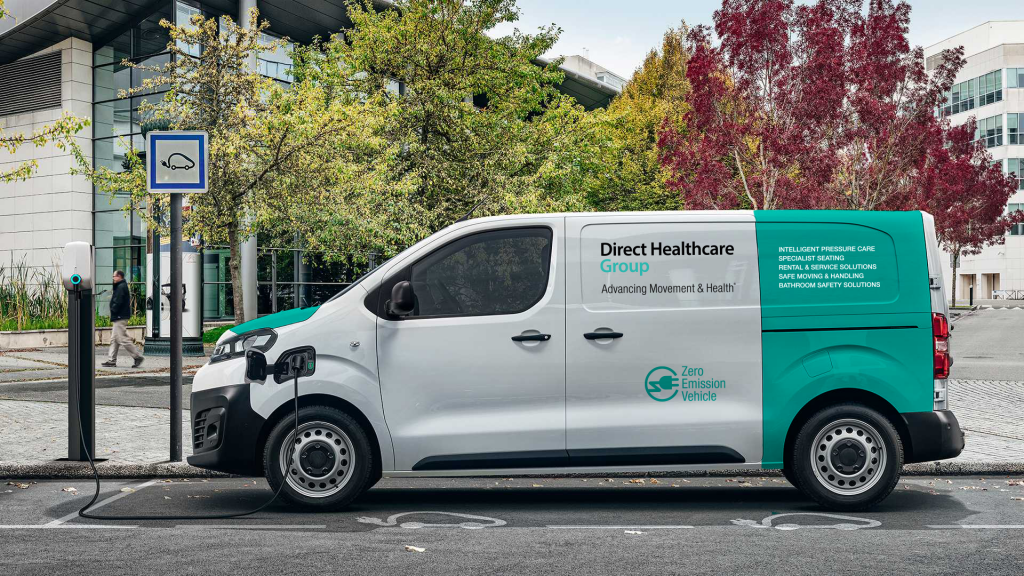 Direct Healthcare Group have taken significant steps in ensuring that the delivery of its rental and service operation is sustainable and environmentally friendly, as it begins the swap out of conventionally fueled vans to a new electric fleet.
The new Peugeot e-Expert vans are fully electric, zero emission vehicles providing a significant environmental benefit within a portfolio that traditionally requires high volume logistics and movement of key medical equipment.
The move directly benefits the global push towards net-zero emissions by 2050, and a reduction of emissions by half before 2030, set out by the United Nations (UN) and pledged to by 110 countries. The UN have repeatedly stated the criticality of early mobilisation in meeting this criteria, in order to see the largest possible benefit.
As such, DHG have taken a significant early step in contributing towards these goals, recognising the impact individual companies can have on the larger national and international goals.
Graham Ewart, Chief Executive Officer, said: "We have seen significant growth within our rental and service operations over the past 5 years, which, in turn, has lead to an increase in the number of vehicles within our fleet making deliveries of rented equipment everyday. We recognise the serious implications this has and have taken the critical first step in creating a greener, more sustainable rental delivery for our customers. I would hope that this change sets a precedent within the industry, with similar providers following suit in order for us all to have the greatest impact."
Direct Healthcare Group are working in alignment to the UN's Sustainable Development Goals (SDG), of which tackling climate change is a key priority. As such, DHG will continue to implement strategies and initiatives that addresses this global challenge in a meaningful way.
The purchase of these new zero emission vehicles will see them rolled out into the fleet in greater numbers over the coming months.